AFCON 2021 Qualifiers: Nicolas N'koulou And Allan Nyom Makes Their Return On The List Of 33 Summoned By Antonio Conceicao
The head coach of Cameroon indomitable lions Antonio Conceicao has confirmed his 33 squad list for the Afcon 2021 qualifiers against Mozambique later this month in Douala Cameroon and Mozambique on March 26 and 30 respectively
The Indomitable Lions are second in Group F after failing to beat little known Cape Verde Island in Yaounde on November 13, 2019, and level on four points with their Southern African opponents who hold a superior goal difference.
The 33-man team comprises four goalkeepers, three out of Cameroon and one from the Cameroon Elite one championship ( Stade Renard Melong), 11 defenders, eight midfielders and 10 forwards with a surprise forward from the Cameroon Elite One ( Union of Douala
The big surprise on the list is central defender and legend Nicolas N'koulou who make his return since his last game in Gabon in the finals of the AFCON 2017 against Egypt.
Allan Nyom also makes his return in the lions Camp since his last called up in 2016
Anambra-born John Mary made the shortlist, his second invite to the Indomitable Lions camp, after replacing injured Stephane Bahoken last November, and he will be aiming to make his debut appearance for Cameroon later this month.
Conceicao opted for goalkeeper Yannick Epane Litizi of Stade Renard and Aboubakari Sidiki of Union Sportive as the two home-based players in his selection while regulars PSG's Eric Choupo-Moting, Lyon's Karl Toko Ekambi, Villarreal's Andre-Frank Zambo Anguissa and Ajax's Andre Onana join to complete squad.
COMPLETE LIST OF 33 PLAYERS
Goalkeepers: Andre Onana (Ajax Amsterdam, Netherlands), Fabrice Ondoa (KV Oostende, Belgium), Haschou Kerrido (CIK Kamsar, Guinea), Epane Litizi (Stade Renard, Cameroon).
Defenders: Fai Collins (Standard Liege, Belgium), Jerome Onguene (Red Bull Salzburg, Austria), Nicolas N'koulo (  Torino Fc Italy), Michael Ngadeu Ngadjui (Gent, Belgium), Allan Nyom (Getafe,Spain), Ambroise Oyongo Bitolo (Montpellier, France), Joyskim Dawa Tchakonte (Mariupol, Ukraine), Jean Charles Castelletto (Brest, France), Ngouyamsa Ahmad(Dijon), Ngah Fabrice (Raja Casablanca), Harold Moukoudi (Middlesbrough).
Midfielders: Andre Zambo Anguissa (Villareal, Spain), Pierre Kunde Malong (Mainz, Germany), Arnaud Djoum (Al-Raed, Saudi Arabia), Fabrice Olinga (Mouscron, Belgium), Franck Bambock (Maritimo, Portugal), Eteki Brice Yann (Granada), Oum Gwet Samuel (SCR Altach), Onana Jean (Lille)
Forwards: Stephane Bahoken (SCO Angers), Ignatius Ganago (Nice, France), Eric Maxim Choupo-Moting (Paris Saint Germain, France), Christian Bassogog (Henan Jianye, China), Jean-Pierre Nsame (Young Boys, Switzerland), Karl Toko Ekambi (Villareal, Spain), Brice Moumi Ngamaleu (Young Boys, Switzerland), Vincent Aboubakar (Fc Porto, Portugal), Aboubakari Sidiki(USD, Cameroon), John Mary Uzuegbunam (Shenzhen).
Please follow and like us:
Its Exactly One Year Since the U-17 Lions Conquered Africa for the Second Time.
Its exactly one year since the U-17 Lions Conquered Africa for the second time in their history after they beat the "Syli National" of Guinea 5-3 after post match penalties.  The match however ended in a goalless draw.
Cameroon began the competition on April 15, 2019 as they beat Guinea 2– with goals from Steve Mvoue and Seidou Ismaila.
On April 18, 2019,  the beat Morocco 2-1 with a brace from Seidou Ismaila and three days later they were held by Senegal in a goalless draw.
Entering in to the knockout phase, the U-17 Lions failed to score a single goal as they beat Angola 4-3 after post match Penalties.  The match however ended goalless after 120 minutes.
The same scenario was manifested in the final as they beat Guinea 5–3 after post match Penalties.  It should be noted that Cameroon beat Guinea in their opening game by 2–.
The victory for Cameroon means they now have two U–17 AFCON titles after they won the first in 2003.
It should be noted that Steve Mvoue was awarded the most valuable player of the tournament.
With such performance from players like Manfred Ekoi who conceded just one goal in the entire competition,  Steve Mvoue and Seidou  Ismalia, many thought the team will do more at the U-17 world cup in Brazil but the boys of Thomas Libiih failed to live up to expectations as the conceded 6 goals and scored just one.
With a devastating performance at the world cup,  coach Thomas Libiih and his entire technical staffs were all sacked with immediate effect.
Please follow and like us:
Senegal's FA Boss says it will be in Impossible for the 2021 AFCON to take place if Qualifiers can not be completed.
The president of the Senegalese Football Federation Augustine Senghor says it will be impossible for the 2021 Africa Cup of Nations to take place if the qualifiers can not be completed. 
The Senegalese FA boss is more concerned about the future of football and has called for a collective effort  to help recognize the global football calendar in the wake of COVID-19.
The  present health crisis has hit the sporting industry, most especially the AFCON qualifiers which have been postponed due to the present Pandemic with Senghor saying that the competition in Cameroon may not be able to start in January as planned.
"We need many FIFA Windows to complete the qualifiers.  And if we don't play in June or August I think it will be impossible to play the AFCON in January", Senghor told reporters.
The Senegalese FA boss also emphasized on the fact that the executive committee of CAF will have to take a decision which might be to postpone the competition if no conditions are fulfilled.
With four rounds of group matches remaining in the qualifiers for the AFCON 2021, Senghor is still skeptical.
"No body in the world can say that in September or November we'll have won the battle against COVID–19 which is why its very difficult to give a serious opinion on the matter.  But what is important is that in this time we see if we can finalise the qualifiers".
Augustine Senghor also pointed out the fact that joined efforts of the different football confiderations is needed to get a solution on the future of global football in the wake of COVID-19.
"Its not something only we can decide– we need to have consultations with UEFA and FIFA to know what's best for football in the world. We have to organise a world plan to postpone or recognize the football calendar agenda for the next months or next year".
Global sporting competitions have all been suspended or postponed due to the outbreak of COVID-19 and most especially the AFCON qualifiers which has put the AFCON 2021 said to take place in Cameroon under threat as the competition might not take place in January 2021 if the qualifiers are not completed.
Please follow and like us:
AFCON 4 year routine proposal: Eto'o & Drogba Clash
Drogba a Revolutionary while Eto'o more  Conservative as both legends disagree on FIFA's AFCON 4 year routine proposal.
FIFA's president, Gianni Infantino proposed on February 1, 2020 that AFCON should be played after every four years instead of the traditional 2year routine.
This was in a CAF general Assembly meeting held in Rabat, Morocco.
But since this proposal was made, African football stakeholders received the proposal with mix feelings as the two most decorated African Players in the 21st century, Didier Drogba and Samuel Eto'o both have different views concerning the subject matter.
Drogba's view:
Former Ivory Coast international "the monster, Mr. Invincible" Didier Drogba agrees with Gianni Infantino's revolutionary proposal of spacing the AFCON to be played after every 4 years.
Speaking to Africanews, Drogba argued that playing the competition after two years will be a disadvantage to African players plying their trade in Europe judging from the fact that a bulk of Africa Stars now ply their trade in Europe.
Drogba also gave his experience in his playing days as the two-year routine of the AFCON jeopardized his place in the starting line-up while playing for Chelsea.
"It was really complicated, not to mention the weather conditions. So it's going to be an interesting debate and I hope to contribute too"
Drogba added.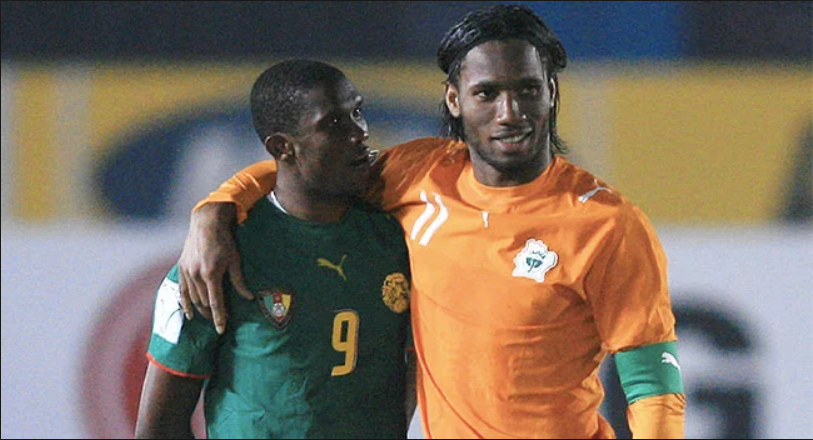 Eto'o 's view
The former Cameroon international "Goal Accountant", Samuel Eto'o disagrees with Infantino's proposal of organizing the AFCON after 4 years.
The former Barcelona and Inter Milan forward is against the proposal as he made it clear that the four years routine is for the benefit European clubs as they always want to hold on to Africa's best like Moh Salah, Sadio Mane, Pierre Emerick Aubameyang and others to avoid consistent AFCON called ups.
"FIFA defends the interest of European clubs"
said the for goal accountant Samuel Eto'o.
Though both Legends have different views on the subject, the two former strikers are yet to give solutions on how the AFCON will not affect the cordial relationship between European clubs and African stars when called up for AFCON duty.
Please follow and like us: