L'Equipe label Messi 'the Che Guevara of Barcelona' on their front page
Lionel Messi's swipe at the Barcelona board has made shockwaves across the world.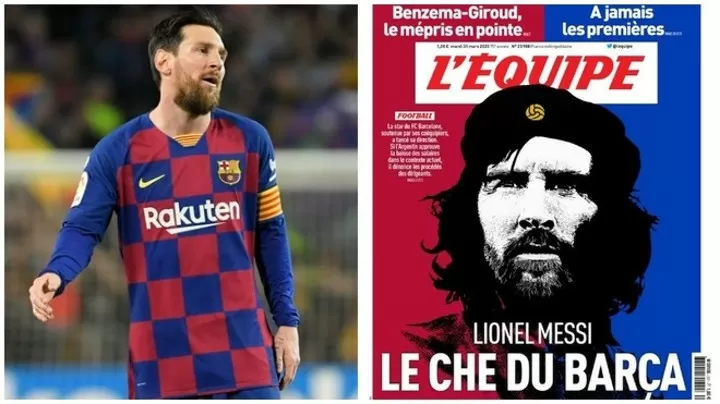 The Argentine hit out at the club's directors for pressuring the players into taking a pay cut when they were going to do it anyway.
L'Equipe have taken this and run with it, painting Messi as Che Guevara – a key figure behind the Cuban Revolution – on their frontpage for Tuesday.
"Lionel Messi, the Che of Barca," their headline reads.
Text : All Football
Let's fight COVID 19
Stay home to avoid spread.
Please follow and like us:
France: Discover The 11 Nominees Of The Prestigious Marc Vivien Foe Award
Radio France Internationale (RFI) has announced the list of nominees for the yearly Marc-Vivien Foé Award. The winner, recognized as the best African footballer in the French Ligue 1 championship over a 12-month period will be known on June 29th  2020.
Hailing from 6 different countries, with a domination from Senegalese and Nigerian players, this year's nominees highlight the breadth and wealth of African talent playing in the French Ligue 1 championship. These players will be vying to succeed Ivorian forward Nicolas Pepe, winner of the 2019 award. A shortlist of just three nominees will be unveiled in early June, with the laureate to be announced later in the month.
The award is named after late Marc-Vivien Foé, former Cameroonian defensive midfielder footballer who suddenly passed away during a FIFA confederation cup match against Columbia on 26 June 2003 in France.
These are the nominees:
Yunis ABDELHAMID (Morocco / Stade de Reims) – Defender
The "Lion of the Atlas" is one of the great craftsmen of 6th placed Reims in the French ligue 1 championship. Yunis is the Moroccan figure in the All best season's XI established by the renowned French magazine France Football and was rated as best defender by the newspaper L'Équipe. The 32-year-old player could finally discover the European Competition as his club is on the brink of participating in the Europa League.
Denis BOUANGA (Gabon / AS Saint-Etienne) – Forward
Arriving from Nîmes last summer, the 25-year-old Gabonese had a little trouble adjusting in his club during the first weeks of the championship. He was quick to catch up and resum with last season's rhythm and performance that saw him rose from Nîmes to Saint Etienne.  The versatile striker finished the season with 10 goals and 3 assists to his name in 26 Ligue 1 games. With "Les verts", he has progressed to the lamp light, arousing the lusts from some big clubs.
Andy DELORT (Algeria / Montpellier HSC) – Forward
The African champion continued this season with an uprise momentum, after a radiant summer with the Algerian national side. Though he scored 9 goals in 26 games this season against 14 in 36 games during the 2018-2019 season, the 28-year-old striker seems perfectly fulfilled in his native region.
Habib DIALLO (Senegal / FC Metz) – Forward
The former resident of Génération Foot Fc (Senegal) perpetuates the tradition of talented Senegalese players who is walking in the footpaths of his predecessors through Metz FC (That has nursed Jules Bocandé, Ismaïla Sarr, Papiss Cissé and Sadio Mané over the years). After helping Metz move up to Ligue 1 in 2019, the 24-year-old center-forward helped the club be maintained in the french top flight with 12 goals in 26 games.
Idrissa GUEYE (Senegal / Paris SG) – Midfielder
Rarely has a defensive player been expected to produce as much as Gueye in a major club. Even if he is not a pure defensive midfielder, the Senegalese aged 30, recruited last summer by Everton (England), filled a glaring shortage in this position, with much consistency, rigour and ardour.  this, to the point of quickly attracting the sympathy of PSG fans.
Edouard MENDY (Senegal / Stade rennais) – Goalkeeper
The "Lions of Teranga" are assured with the save hands of Mendy and Alfred Gomis, two excellent goalkeepers of Ligue 1. Gomis could also have been on this list if not of an injury contracted in early February. The goalkeeper of Stade Rennes, in any case, has confirmed with Rennes his fine performances from the seasons spent in Reims.
M'Baye NIANG (Senegal / Stade rennais) – Forward
At 25, the former great hope of French football has certainly not yet unleashed his full potential. But in Rennes, the one who opted for the Senegalese national side demonstrated that he was an imposing striker, scoring 10 goals this season.
Victor OSIMHEN (Nigeria / Lille LOSC) – Forward
Will the Nigerian be the fifth Lille player to becomr the best African player of the Ligue 1 championship, after Gervinho (2010, 2011), Vincent Enyeama (2014), Sofiane Boufal (2016) and Nicolas Pépé (2019)? The 21-year-old center-forward in any case illustrates the LOSC's ability to find nuggets. With 13 goals and 4 assists in 27 games, the "Super Eagle" excelled above expectations.
Moses SIMON (Nigeria / FC Nantes) – Midfielder / Forward
Loaned by Levante, the Nigerian signed up for 4 years with Nantes where he has just been elected player of the season. This eccentric midfielder/twirling winger, aged 24, has split 5 goals and 5 assists in Ligue 1. Among the "Canaries", Moses Simon has accumulated experience, haven played in the Netherlands, Slovakia, Belgium, and Spain. Nantes seems to be a favourable ground to find stability that will permit him be a starter with the "Super Eagles".
Islam SLIMANI (Algeria / AS Monaco) – Forward
Through Portugal, England, and Turkey. Slimani is known for his precious goals and his ceaseless efforts. At Monacco, we discovered his technical finesse and his generosity in assists (8 assists and goals). The African champion has formed a beautiful duo with Wissam Ben Yedder. But, despite his high-class performances, the 31-year-old did not always have the confidence of the new Monegasque coach, Robert Moreno.
Hamari TRAORÉ (Mali / Stade Rennes) – Defender
Good side backs don't run the streets. So Rennes will no doubt have to insist on keeping the Malian international. At 28 years old and after three seasons in Brittany, this straight side and full of drive aspires for greater challenges. The prospect of competing in the Champions League might push him to extend the adventure with the "Red and Black".
It should be noted no Cameroonian is on the list, two Nigerians and a majority of Senegalese players. Rennes, more than any other club is most represented with 3 players.
Former winners of the Marc-Vivien Foé Prize Award
Year      Player                                  Club
2009  Marouane Chamakh (Girondins de Bordeaux)
2010  Gervinho                      (LOSC Lille)
2011  Gervinho (2)                 (LOSC Lille)
2012  Younès Belhanda         (Montpellier HSC)
2013  Pierre-Emerick Aubameyang (AS Saint-Étienne)
2014  Vincent Enyeama          (LOSC Lille)
2015  André Ayew                    (Olympique de Marseille)
2016  Sofiane Boufal               (LOSC Lille)
2017  Jean Michaël Seri          (OGC Nice)
2018  Karl Toko-Ekambi         (Angers SCO)
2019  Nicolas Pépé                    (LOSC Lille)
2020:
Please follow and like us:
The Championship Can Resume On June 20 – Italian Sport Minister
The green light has been given for Italy's Serie A football championship to begin on June 20.
The Italian Minsiter of sports on Thursday May 28 said, the government's Technical and Scientific Committee (CTS) had agreed to the health protocol proposed by Italian football chiefs.
"Italy has started to return to normal life again, it is only right that football should do the same. The federation assured me that it had a Plan B and a Plan C. In light of these considerations, the championship can resume on June 20," Spadafora said.
He added that, "The CTS agreed with the medical protocol, but confirmed the absolute necessity for a quarantine period if a player were to test positive."
In a video conference, the Italian Football Federation (FIGC) President Gabriele Gravina said, there would be a play-off system if the championship were again interrupted, while the existing standings would be used if it were stopped.
I'm happy and satisfied. The restart of football represents a message of hope for the whole country," Gravina said.
Being one of the hardest hit countries by the coronavirus pandemic with over 33,000 deaths, Italy begun to ease restrictions. No top-flight matches in Italy have been played since Sassuolo beat Brescia 3-0 on March 9. Italian football now faces a scheduling nightmare, for matches, which will take place behind closed doors.
Italians clubs on Friday May 29 meet to examine the possibility of playing the remaining Serie A and Italian Cup matches, amounting to some 127 in total. Most teams have 12 league games left to play, but there were four postponed fixtures.
By Etienne Mainimo
Please follow and like us:
2020/2021 Laliga Season To Begin On September 12
The President of the Spanish Football Association, Laliga, Javier Tebas says, the 2020/2021 football season will begin on September 12, 2020.
Speaking in an online forum organised by Spanish newspaper Marca on Friday May 29, the president said, "God willing that day will be September 12 and hopefully we'll be able to say we have overcome this most difficult period but at least we will be better prepared."
"The important thing will be when the season finishes although we'll only be able to congratulate ourselves when we start the following season," Tebas added.
The information comes after government approval last week. With the current season set to start up again on June 11 and finish on July 19, all matches will be played without spectators although fixtures are yet to be officially confirmed. FC Sevilla will take on Real Betis FC in the opening match. Barcelona led Real Madrid by two points at the top of the table when La Liga was halted in March.
Spain's top-flight division one football championship was suspended in March due to the coronavirus pandemic
The president also revealed that, despite the COVID-19 pandemic, organisers have been working hard behind the scenes for the restart the season practical, although many of the logistical problems will depend on how the country's regional governments are easing lockdown measures.
Going by him, there are more than 130 people at La Liga working so that everything can be done, in a new way: travelling, organisation, everything.
Restrictions are gradually being lifted across Spanish territories, with several areas now having moved from Phase One to Phase Two.
Tebas has led the campaign to get the season back on track since it was postponed on March 12, warning that clubs could lose up to one billion euros ($1.11 billion) collectively if the remaining 11 rounds of matches could not be completed.
Nevertheless, the German Bundesliga has already played three match days following its restart earlier this month, while the English Premier League and Italy's Serie A are also set to return in mid-June. But the top-flight seasons in France, Belgium and the Netherlands have all been<
By Etienne Mainimo
Please follow and like us: