Ronaldo, Maradona & Bale… Meet 10 footballers who never skipped leg Day. 
Perhaps the most tiresome and boring part of working in the gym for many is 'leg day'.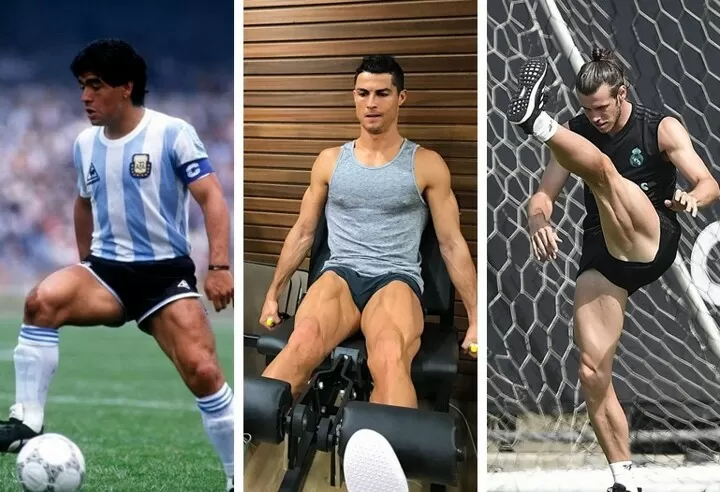 Waking up the following day and barely being able to put a step together can be a hindrance, so a number of footballers and everyday people often come up with novel excuses to avoid doing it altogether.
However, there are some who ensure that when leg day does come around, they are ready to tackle it head-on. After all, it is their feet that do the talking on the pitch.
With that in mind, we've come up with ten footballers past and present who've relished doing those squats on a weekly basis.
1. Clarence Seedorf
It is impossible to not love Clarence Seedorf.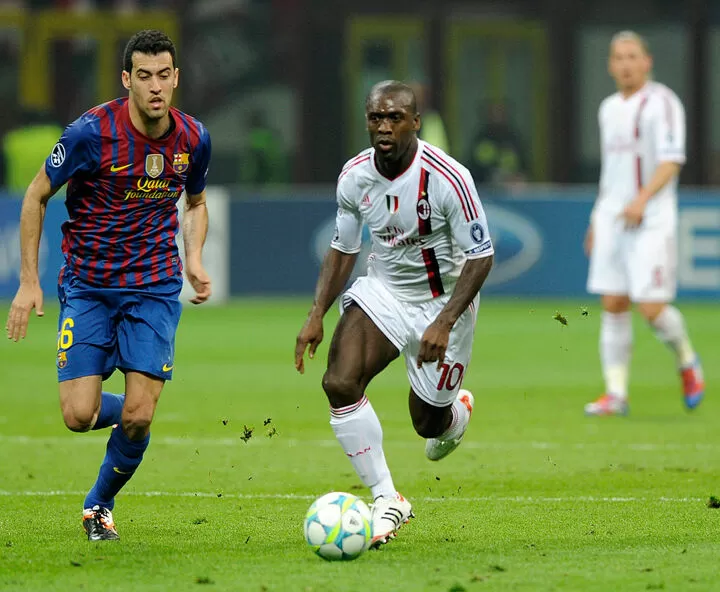 Not only does he have one of the coolest names in football history, but he was also a legendary player during his heyday, as shown by the fact that he has four Champions League medals collecting dust in his house somewhere. And most importantly, he's got ridiculously large thighs. Just look at them!
2. Roberto Carlos
Roberto Carlos wasn't the biggest player around but even he has a claim to having larger thighs than Seedorf.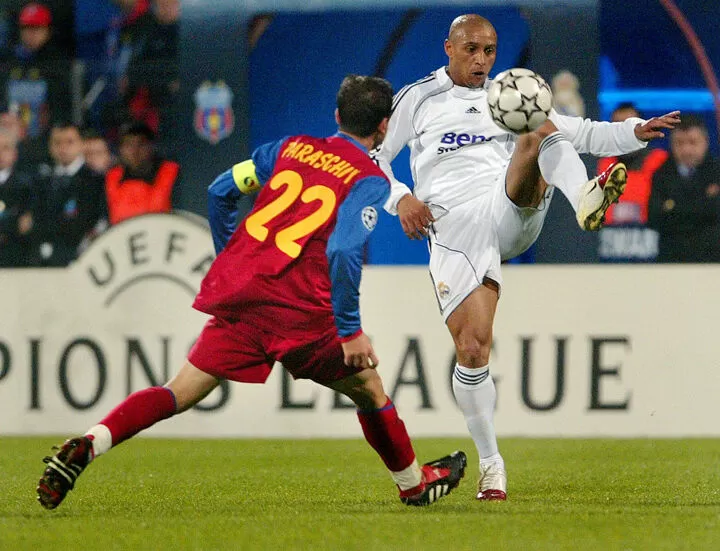 The two actually shared a dressing room briefly at Real Madrid in the late 1990s, which is surely where their mutual love of doing leg curls started.
Considering how big his thighs were, it is hardly a surprise that Carlos could smash the ball harder than anyone else on the planet.
3. Cristiano Ronaldo
With both Carlos and Seedorf now retired, Cristiano Ronaldo is the man carrying the flag for gym-loving footballers.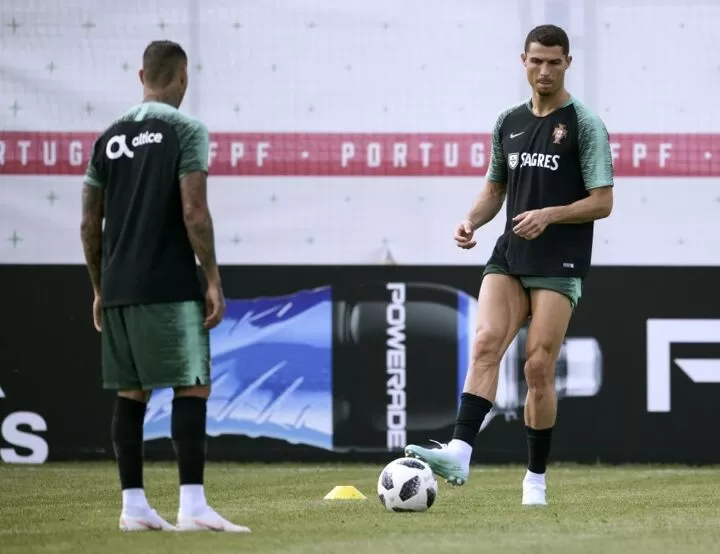 Rarely does a day pass when the Portuguese superstar isn't uploading a picture of himself on Instagram going through his routines in his gym.
To be fair, though, his body transformation from scrawny Man United teenager to his current superhero-esque build is pretty impressive.
4. Xherdan Shaqiri
So far we've predominantly focused on players with bulging thighs, but when it comes to the King of the Calves there can only be one.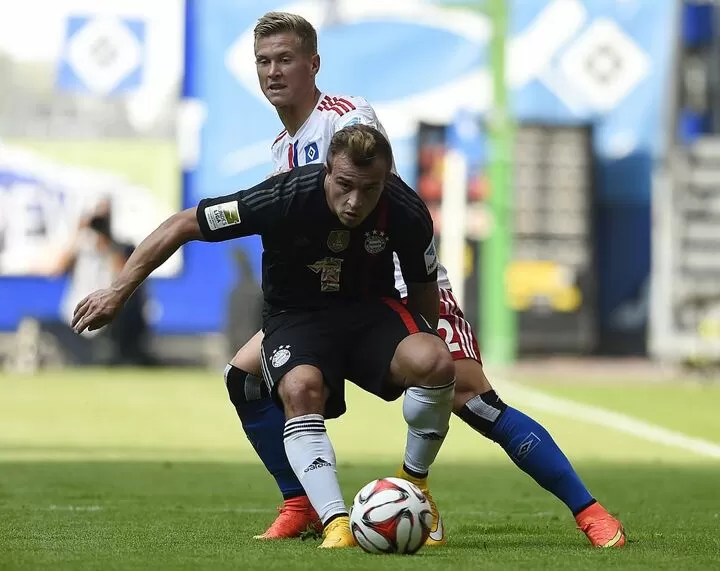 To some, he goes by monikers such as the Cube of Power, the Magic Dwarf and the Alpine Messi. You might know him better as Xherdan Shaqiri.
Despite standing at 5'7, the Liverpool attacker is built like a proverbial brick s***house and, frankly, looking at the size of his legs is enough to leave us scared and impressed in equal measure.
5. Wilfried Bony
Wilfried Bony was one of the deadliest strikers in the Premier League while at Swansea but a non-spell at Man City led to him joining Stoke City and Swansea City once more, before spells with Qatari club Al-Arabi and Al-Ittihad in Saudi Arabia.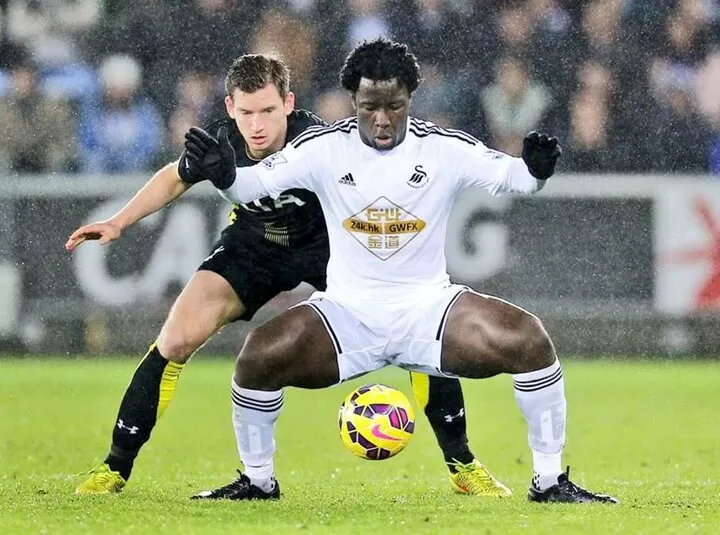 Over the years, though, it seems as though big Wilf has done serious work in the gym by smashing out those leg presses like there's no tomorrow.
6. Diego Maradona
To be fair, this entry probably did skip a leg day or two.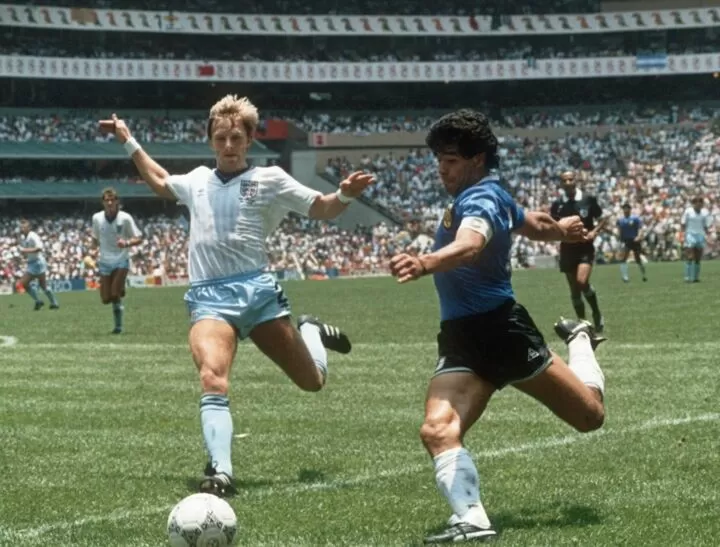 Diego Maradona was never one for discipline.
Maradona was about more than outrageous skill, though. As perhaps the most naturally talented player in the history of the game, at times it was impossible to get the ball off him as he slalomed his way past bamboozled defenders.
But he was also extremely tough, and the strength in his legs allowed him to ride the crudest of challenges. His leap for the Hand of God was pretty handy too.
7. Gareth Bale
Cristiano Ronaldo and Gareth Bale supposedly didn't always see eye to eye in Madrid, and perhaps this boiled down to competition in the gym.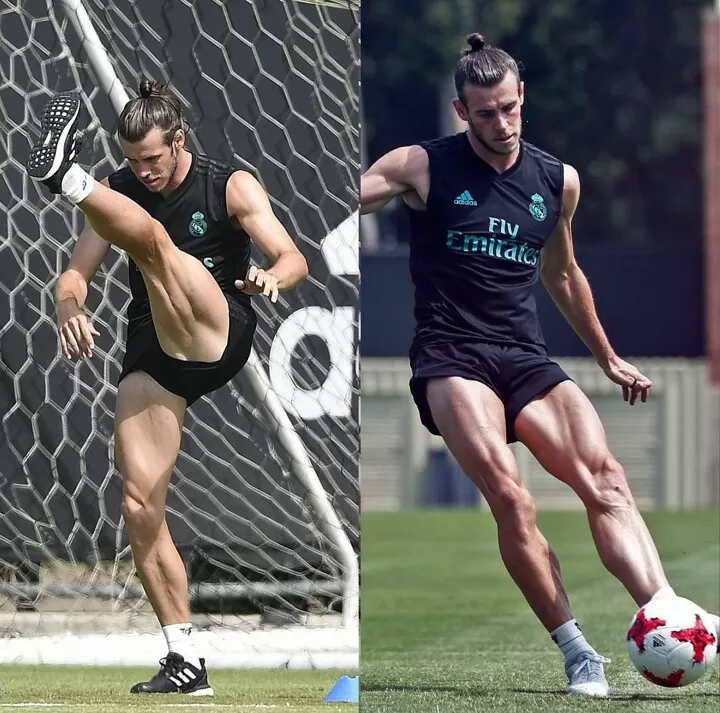 Bale suffered numerous injury problems as a youngster and noticeably packed on muscle during his latter seasons at Tottenham Hotspur, but he has taken his bodybuilding to a whole new level in Spain.
8. Hulk
With a nickname like Hulk, you have to make this list.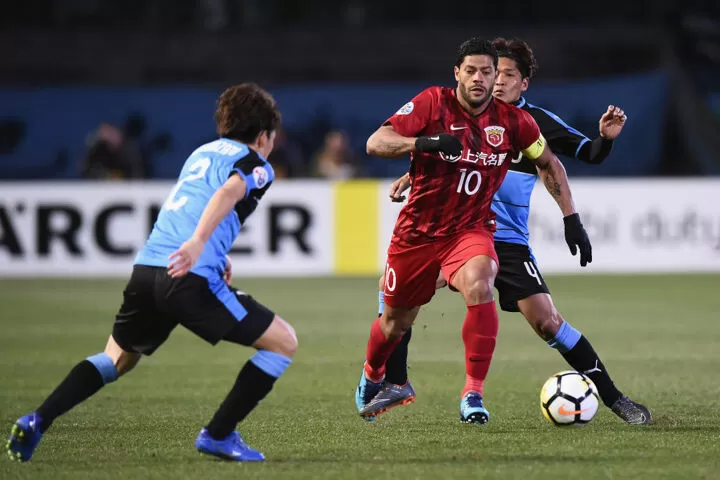 The Brazilian forward has made a career based off the fact he can hit the ball insanely hard and it is hardly surprising when you have a look at the size of his quads.
Although his reputation dipped after a poor World Cup in 2014, Hulk still tore apart Russian Premier League defences with Zenit and now has 70 goals in 125 games for Shanghai SIPG.
9. Lukas Podolski
The former Germany international was known for having a rocket of a left-foot and it's easy to see why.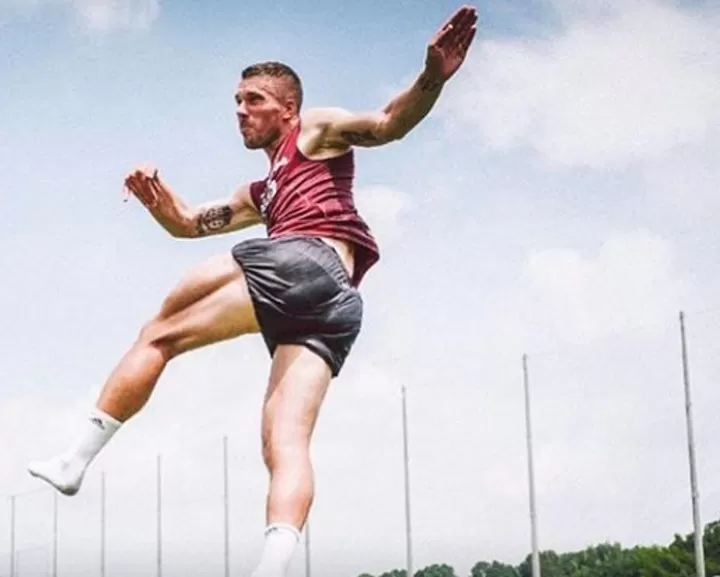 Judging by his thighs, it would appear that the former Bayern Munich and Arsenal forward spent a lot of time in the gym.
There you go. Pretty obscene quadricep definition if we don't say so ourselves.
10. Jack Grealish
Wearing your socks as low as possible seems to be a developing trend among footballers, but when you've taken the time to sculpt your legs like Jack Grealish, can you blame them?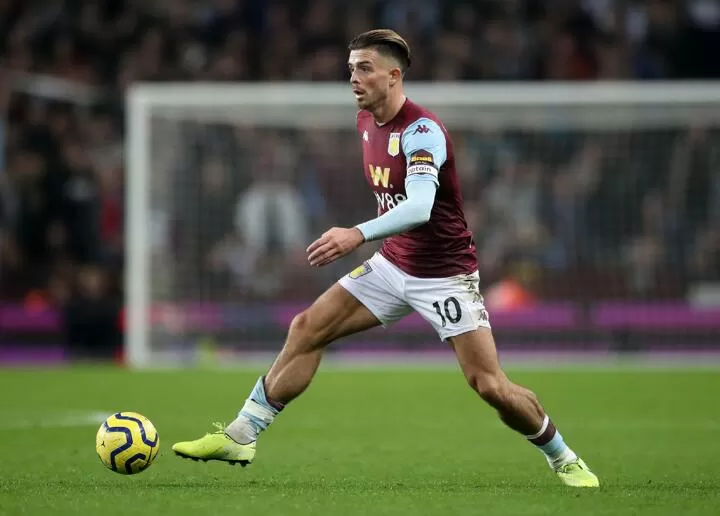 The Aston Villa playmaker is showing us all just why he's so highly regarded this season, creating chances, turning defenders inside out and giving Gareth Southgate genuine questions regarding his international future.
The power contained within his legs is no doubt playing a part in his brilliance.
Text : All Football
Let's fight COVID 19
Stay home to avoid spread.
Please follow and like us:
6 Positive cases for Covid-19 in EPL
The Medical Committee of the Egyptian Football Association, headed by Dr. Mohamed Sultan, revealed the emergence of 6 positive cases for Covid-19 , on the second day of the medical survey conducted by the Premier League clubs, in preparation for the return of the competitions.
The medical survey included players, coaches, administrators and team workers.
Please follow and like us:
Teeboy Kamara Ready To Play For Leone Stars
Teeboy Kamara is a Liberian-born Australian footballer of Liberian extraction. He wants to play for Liberia, though he is yet uncapped competitively at senior level for Australia.
In an Interview conducted with Liberian Football Stars News this, the Green Gully SC versatile winger, Teeboy Kamara is finally ready to represent Liberia's Lone Star as he has officially opted to commence a nationality switch.
Born in Monrovia-Liberia to Liberian parents, the 24-year old winger has represented Australia at the under-17 youth national team level.
"I left Africa due to the civil war in Liberia and found a new home in Australia. I have always been proud of Liberia and ready to represent where I was born." Teeboy said in an Interview with Liberian Football Stars News.
Kamara signed with Australia Pro League club Adelaide United where he began his professional football career. He made his professional debut in the 2011-12 Australia Pro-League season in December 2011.
He went on to feature for clubs such as Inglewood United, Stirling Lions, Nunawading City and Melbourne Knights.
In January 2019, Kamara joined Green Gully Soccer Club for a club record fees and is currently one of the most valued player at the Melbourne based club
Please follow and like us:
"It's not only infrastructure and money that takes you to the top"- Senzo Mazingisa on South African Football
South Africa celebrates 26 years of independence which corresponds to 26 years of freedom in football. In an exclusive chat with mysoccer24.com , South African born and Simba SC C.E.O, Mr Senzo Mazingisa throws more light on the development of football in South Africa with a tentative response on the contrast between its infrastructural development and poor results on the pitch. 
We are happy today to be celebrating the freedom day as South Africans.
"There's been a lot of positives especially in sports. South Africa was excluded from international sports participation and since the freedom day, SA is now allowed to compete internationally, and we are excited about that."
During the apartheid period marked by separation between blacks and whites, blacks were excluded from certain sports and have missed in a lot of sports developmental processes in the past and South Africa is still dealing with it through government intervention. Football has witnessed some progress
"When it comes to Football, we have made some progress but due to lack of focused development programs, we have failed to live up to the expectations.
But there's also some improvements in the last 2 years or so as we have managed to see our Ladies teams, U17, U20 and U23 doing well in their respective competitions. Qualifications to the junior World Cups has also been encouraging.
South African independence is for All Africans
South African independence is for All Africans because most of the players are playing in PSL and other wealthy Divisions which have potential.
Also, this country has good memory for hosting FIFA World Cup in 2010, this for the first time in the history of Africa.
Asked why the Bafana Bafana are not occupying top positions in African football,  Senzo recognizes it takes more than economic power to get to the top.
It's not only infrastructure and money that takes you to the top.
"If your development system and some assistance you have in place are not aligned towards what you want to achieve, it would be problematic.
It's like giving a child all the toys but still doesn't do well in class. That means the training must be different; We need to improve on how we did with our development structure; We need to improve on communication between coaches, players and the football system in the country. So, it's a matter of alignment. We just need to align few things and I'm sure that we are able to improve.
The competition also has been very tough. It's not only South Africa that has got the best. Other countries have been coming up and taking football very seriously so it's not a one sided approach to say we have the infrastructure.
No! We need to still work hard and make sure our systems are intact, and we can talk to each other in terms of the coaches, the players and what we want to achieve as a nation.
Yes, We've got the infrastructure, our league is very strong, our clubs are doing well, we just need to improve on our Bafana Bafana 11″
The 2019 performance of the Bafana Bafana has given hope to the entire nation, ending the tournament at the 1/4 finals after haven shocked host Egypt in the round of 16.
By Gharib Mzinga
Please follow and like us: